Tracy Ciucci
Broker and Owner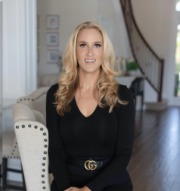 Tracy Ciucci is the proud owner and broker of Tracy Estates and has had the pleasure of helping over 300 families and the experience of having sold over 100 million in real estate. Tracy hit the ground running as a top producer in South Florida in her first year of real estate in 2016. In 2022 she took her top producing status to another level by following her dream of opening a  brokerage. Not just any brokerage. A visionary brokerage focused on people first. Taking care of agents so they can take care of clients. Tracy's mission is to ease the process of selling or buying a home, so you can rest assured you are working with an expert in the current market, and above all keeping communication and transparency at the forefront of the process. Tracy sets the bar with world class service and market leading expertise. Tracy always infuses energy and creativity into real estate and combines it with a love of cutting edge technology and marketing systems. She understands the market trends and has been a successful investor and has a wealth of experience negotiating multi-million dollar contracts with grace and fierce tenacity. 
Tracy opened her own brokerage to pair her love and vast experience of educating others with her passion for the real estate market, to provide clients with top notch real estate experiences, and to provide agents the tools they need to thrive. Tracy's company is dedicated to helping clients succeed, and to provide a place where agents can grow and reach their dreams, live a purposeful life, and create financial freedom for themselves and their families. Tracy's agents take great pride in the company and the collaborative team environment is palpable at Tracy Estates. What gives Tracy purpose is teaching and helping others, and this is the cornerstone philosophy behind Tracy Estates. Dream big, be kind, work hard, always. 
Tracy is an alumna of Western Michigan University with multiple advanced degrees in education, leadership, technology, and law. She has served as a tenured professor, department chair, union chief negotiator and president, president of multiple statewide Florida organizations, and lobbies each year at the Capitol in the Great State of Florida for education. She has four incredible children, and takes great pride in her close knit large Italian family and their unwavering support.  
Tracy, and her remarkable team of professionals at Tracy Estates, have the expertise and dedication it takes to earn your business and your referral. Real estate is, above all, about people and relationships, and she knows that your South Florida lifestyle begins with a smart investment and a great experience. 
If you are an agent interested in finding out more about Tracy Estates, Tracy welcomes the opportunity to talk with you about the incredible team we have, our value proposition, and how there are no limits to what we can do together. Tracy's company is dedicated to a reputation of excellence, redefining what is possible, and helping you to succeed. After all, the quickest way to achieving success in this life is by helping others do the same.